Re: Student drop off and collection expectations for parents and guardians
Dear Parents and Guardians,
We are pleased to confirm that our "Kiss n' Go" student drop off and collection area is now ready for use. Hopefully this will reduce some of the traffic congestion around the school we have experienced over the last year and most importantly, make things safer for our growing school population.
It is important to bring to your attention some clear expectations in the use of this zone. I appreciate that sometimes parents and guardians are in a hurry, but the safety and wellbeing of children and our staff is paramount. We ask you to be patient and considerate to others when using the Kiss n' Go.
Please remember, the staff members supervising this area are not traffic wardens. They are not expected to manage disputes or remind parents and guardians to use this space safely. I trust they will be treated respectfully. If they ask you to move on or do another loop of the school zone because your child is not ready for collection, it is reasonable to expect that their instructions will be followed without complaint. If you have any concerns, these should be directed to either Caroline or myself.
The use of the Kiss n' Go is strictly for members of our community. It is school property and is not intended for general parking for parents and guardians. Smile! – you're on camera! – for the safety of the children and to monitor the use of this zone, this area is monitored by multiple security cameras.
We would ask that parents and guardians make time to discuss the pick-up and collection with your children so that they are clear whether they are going to be picked up from the school or from the kiss n' go. This will help avoid confused children not knowing where to go.
Please read the following instructions carefully:
1. The gates to the Kiss n' Go will be opened by a staff member at 8.30am and closed at 8.50am. If a child arrives at school after this time, they must be signed in through the school office by a parent or guardian.
The Kiss n' Go will be reopened at 3.10pm and closed at 3.30pm. All children should be collected from school by 3.30pm
2. Parents and guardians must not park in the staff carpark. This is for staff members only.
3. If you wish to speak to a teacher regarding your child, please park on Waterway Boulevard or Eumerella Boulevard not in the Kiss n' Go. Remember, the teacher you wish to speak to might be on duty at the time and you might need to make alternative time to meet.
4. PLEASE REFER TO THE MAP BELOW: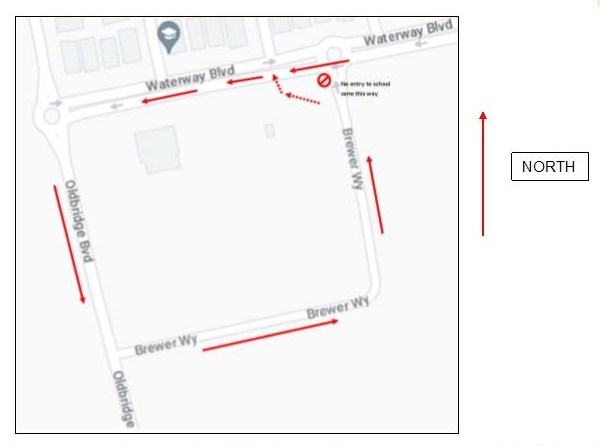 Parents and guardians may only enter the kiss n' go from the south on Brewer Way. This avoids cars banking back on to Waterway Boulevard and potentially causing a traffic and safety hazard. To be courteous and fair, parents and guardians should not enter Brewer Way from the north, then do a U-turn on Brewer Way to jump the queue.
Parents and guardians are requested to travel around the school zone in an anti-clockwise direction and enter the kiss n' go from the south. Please remember this is a school zone and a 40 kmh speed limit applies.
5. Once entering the school zone, parents and guardians must maintain a 10 kmh speed limit.
6. Parents and guardians should stop neatly within one of the marked bays. They should display the card with their family name in their window so the staff member supervising knows which child to call (these will be sent home this week)
7. Parents and guardians must not park in the kiss n' go and leave their car unattended.
8. Children must only enter the car from the passenger side.
9. Parents and guardians must not stop in the middle of the zone to collect a child and must not double park.
10. Please take great care when leaving a zone. Remember our children are little and not always road wise. They might inadvertently cross between cars so parents and guardians must look carefully when they leave a marked bay.
11. If a child is not ready at the zone because they have been delayed at school, the staff member will request the parent or guardian to move on and do another loop of the school zone. This avoids cars banking up on Brewer Way waiting to enter. Please follow this instruction respectfully.
Parents and guardians must not wait in a bay for more than 5 minutes as this prevents other parents from using this space.
12. When leaving the school zone, please be mindful of traffic and children crossing the exit on Waterway Boulevard. Obviously, you must exit left.
We ask for your cooperation in the use of the kiss n' go so that it is safe for everyone, especially our children. We are hopeful that this zone will make life easier for parents and for our neighbours.
God bless,
Bill Hill
PRINCIPAL